Virtual classes are not running while in-person classes are in session. Thank you for your support!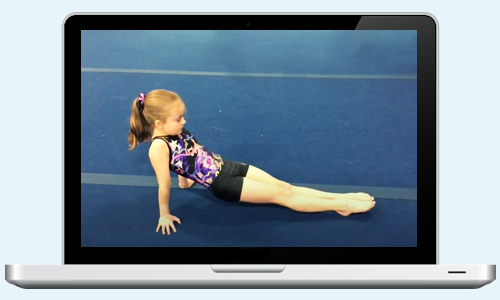 Virtual Recreational Classes
We are proud to offer Zoom classes that focus on the many benefits of gymnastics for students of all ages and experience. Even virtually, our classes introduce and refine skills, such as:
An interactive gymnastics class with Coach Sue that includes stories, characters, and the basic exercises to get up and moving. Aimed towards students 6 and under, but all ages are welcome.
A strength and flexibility class with Coach Sue that will improve skills that fit directly into the AIM Gymnastics curriculum. Improve balance and agility… and have fun! Great for students of all ages.
Any contributions toward virtual classes is greatly appreciated. You will be able to indicate the amount on each week's enrollment form. These are unusual times and we thank you for your loyalty to AIM Gymnastics through the challenges of the last year.
As a thank you, 10% of what you contribute for virtual classes will be credited back to your account and put towards the first month of fees when we return to in-person classes. Please note that the credit is not cash back and is only redeemable towards future AIM Gymnastics fees.
Valid Gymnastics Ontario registration fee required to participate in virtual classes. Registration fee is $35+HST per child and valid July 1-June 30 each year.

Disclaimer: Information, instructions and content provided by representatives of Gymnastics Ontario (such as coaches, instructors and staff) as part of online programming (such as webinars, remote conferences, workshops, online training and links) is provided on the condition that it will not be the basis of any claim, demand, or cause for action. Participants acting on the information, instructions, or content of online programming (such as by performing actions, stretches, routines, or maneuvers) do so voluntarily and at their own risk. Participants are responsible for ensuring their physical environment and location is free from hazards, equipment, or other item or factor that may cause harm to the participant. Participants will not be disadvantaged or disciplined for exercising caution and/or for declining to act on the information, instructions, or content of online programming if they reasonably believe such action may cause them risk or harm.
GUIDELINES FOR IN-HOME TRAINING ACTIVITIES
It is essential that all training be undertaken in an environment conducive to physical conditioning, jumping, and some acrobatics. This should include:
Enough ceiling height for the exercises you will perform
Ensure adequate distance from obstructions
Use appropriately padded exercise surfaces such as yoga mats, fold-out gymnastic mats, or similarly padded alternatives