Join us for a FREE trial class!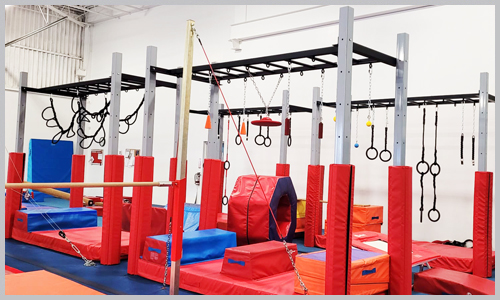 We are proud to offer classes that focus on the many benefits of gymnastics for students of all ages and experience. Ninja classes introduce and refine skills, such as:
All of our coaches are fully certified through Gymnastics Ontario and have completed training in safety, risk management, Respect in Sport, and NCCP coaching courses.
We run an open-enrollment season and payments are due monthly. There are no registration deadlines and new students are welcome at any point during the year. It's that easy!
The first month's fees and non-refundable Gymnastics Ontario registration fee (renewable annually on July 1) are required to enroll.
Registrations are accepted online, over the phone, and in our office. To register online, see class schedules below. Class open status is updated in real-time
Please log in to your online portal account. Haven't logged in before? Click 'Reset Password" and a temporary password will be emailed to you.
Miss a class? No problem! Makeup classes may be scheduled in any other class of the same time length that is within the athlete's age group. To schedule a makeup, please contact our offices.
Makeup classes do not expire, however, they must be used while the student is currently enrolled in a recreational program. Makeups have no cash value and cannot be used in lieu of payment for classes.
Age group: 4+ years
Class length: 55 minutes
Cost: $69+HST/month
Registration fee: $35+HST non-refundable Gymnastics Ontario registration fee due per athlete upon enrollment (valid July 1-June 30 annually).
Register: Accepting enrollments.
Waitlist: Class is full, but accepting waitlist spots.
Blank: Class and waitlist are currently full.
Looking for additional programs?