Join us for a FREE trial class!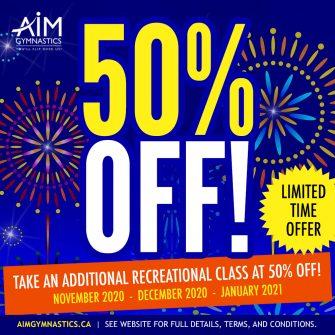 Take an additional class at 50% OFF!
We would like to thank our families for their ongoing commitment! In the months of November 2020, December 2020, and January 2021, we invite you to take an additional class at 50% off.
Browse our programs below:
Terms and conditions:
Additional classes are per student. Sibling discounts are available through our 10% multi-student family discount.
Recreational classes only.
Classes must be of equal or lesser value.
Classes from either location may qualify for the discount.
From February 2021 to June 2021, additional classes will be discounted at 25%.